As the product name says, MultipleCopyPaste is a clipboard utility which can copy more than one item. When you want to
paste, all you need to do is select 'MultipleCopyPaste' instead of 'Paste' from the menu. Doing so will display you a
complete list of copied items. Just select any of the items in the list to paste.
MultiCopyPaste can be accessed from most of the application and then copied items remain there to be pasted even
after the device start.
Main Features:
=========
*Stores up to 50 items you copy or cut.
*After 50, the copied item at the bottom will be deleted and the new one takes place at the top.
*Pastes directly to a field or cursor point on clicking.
*Accessible from most of the applications.
*Click on the application icon and open the menu to clear copied items.
OS5++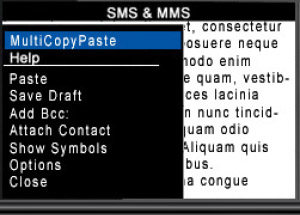 OTA
_________________________________________________

Twitter:
@MarisaDias_

---
Permissions in this forum:
You
cannot
reply to topics in this forum